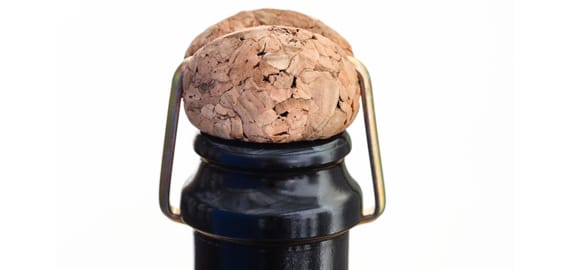 © Cape Times Friday 15th January 2016
When is a cork not a cork? When it's agrafe.  This sounds like some kind of wine geek joke doesn't it? But actually, it's not a joke at all but an old/new way of making sparkling wine.  So, as this weekend is set to be full of romantic bubblies getting popped, I thought it would be nice to talk about a new bubbly which actually gets popped twice over.
A bit of background in case you don't know how bubbles get into a bottle in the first place. Méthode Cap Classique or MCC is made using two fermentations. The first one turns sugary grape juice into dry still wine and then some more sugar and yeast is added to cause a second fermentation. Fermentation produces alcohol and carbon dioxide and because this second fermentation takes place inside a sealed bottle, the CO2 can't go anywhere so gets trapped inside the wine making it bubbly. Nowadays most bottles used for this second fermentation are sealed with a crown cap – exactly like those used to close beer bottles – but traditionally, bottles were closed with a special cork and a large staple known as an agrafe.
Le Lude is a new cellar in Franschhoek at the foot of the mountains which is making only MCC. Set up five years ago by Nic and Ferda Barrow, the aim was to make premium quality bubbles from classic Champagne varieties. As part of their quest for the best, they hired one of the most passionate winemakers around, Paul Gerber, to oversee the vineyards and make the wine. Paul is an ex-maths teacher and retains an academic and analytical approach to winemaking. As part of his ongoing search for even better bubblies, he decided to carry out experiments with agrafe closures to see if it made any difference to the wines.
And surprise surprise, it does make a difference – and it's one that is easy to taste and distinguish. After Paul persuaded cork manufacturers Amorim to bring in some special corks and staples, he started to bottle some bottles and magnums of wine each year using these corks. Initial attempts were not always successful and it took several explosions to get it right, but now it is possible to try wines sealed with the two different methods side by side and actually taste the difference. Paul believes that the three years spent undergoing the second fermentation on cork leads to much more mouthfeel and texture, giving savoury flavours which most bubbles only acquire with age as they lose freshness. The agrafe seal allows the le Lude MCCs to have both freshness and complexity from the get-go and frankly, tastes just completely delicious.
Currently available are the Brut and Brut Rose NV, both costing around the R195 mark and made in the normal way, whilst the top wines which use the agrafe seal will be released later this year and early next year. So there you go – a bubbly with a difference and one which would certainly make my Valentine's Day a happy one this year.
This weekend is about more than Valentine's Day, bubblies, hearts and flowers however. Sharing centre stage with the romance is the AfriAsia Cape Wine Auction which takes place tomorrow at Klein Constantia and aims to be the biggest charity event of the year, auctioning off experiences and packages that money almost literally cannot buy.  Incredible meals, exclusive getaways, unique wines, unheard of luxuries – all these are going to go under the hammer this weekend with all profits going to some great charities around the Cape. I will be using some of last year's funds to teach the Pinotage Youth Development Academy students about international wines, something which we believe will improve their skill set and make them even more employable than they already are. If you hurry, you can still register to bid at the Auction (online registration is open until 12 noon today) but if it's a little out of your league, still keep an eye open for the many good works which will hopefully be able to take place as a result of this year's lots.