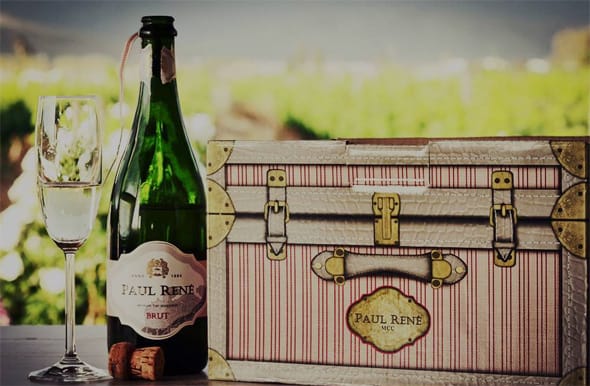 © Cape Times Thursday 31st December 2015
Were you at the Nederburg Auction this year? If so, you'd have heard the brilliant UK wine journalist Robert Joseph talking about how to sell more wine. One idea which I particularly remember, mostly because it was so simple, was to put your wine in a box. He was talking about sales of wine at duty-free shops, often used for last-minute shopping and present-buying, but actually it works anywhere. Putting wine in nice packaging makes it far more special and never more so if the wine inside the box is bubbly. Christmas present-giving may be over but if you're going to a New Year's Eve party tonight, here's some ideas of fabulous gifts which you can help enjoy as midnight chimes.
Hands-down winner on the fab-packaging stakes has got to be new, boutique MCC producer Wonderfontein from Robertson.  The Paul Rene Brut was launched the other year and comes in boxes made to look as if they are min-trunks complete with brassy-looking corners and a lock. My 9-year-old son loved the box so much, he stole it immediately and still keeps all his 'treasures' inside it two years later, and now they have launched a Rosé as well. This arrived at my door in a fetchingly-designed 'handbag' and if you want your pressies this year to have a 'wow' factor, this is how to do it. The packaging is designed by owner Monica van Niekerk and the fizz is made by husband Henk. Both the Brut and the Rose are R160 a bottle and have spent over 20 months on the lees and both are deliciously-savoury with plenty of tangy fruit and a creamy finish.
Equally-stylish although a little more restrained is the new Steenberg Lady R MCC. Named after the original owner of the estate, Catharina Ras, this has spent an impressive 55 months on the lees and takes its place at the top of the Steenberg bubbly tree as its flagship. It was launched at a lovely brunch and since I can personally guarantee that it goes great with oysters and smoked salmon, perhaps this is one you should save for a New Year's Day breakfast instead? Either way, it's a real pleasure to drink – I do love me a little salty umami-ness and this matches that perfectly with some elegant creamy citrus and crunchy apple notes on the side. Buy it from the estate for R395.
Lots of other bubblies come in nice gift boxes at this time of year and I would give a special mention to the new rose from L'Avenir 2012 (R160) which comes in a lovely silver version. I always love the combination of silver and pink, finding it really elegant and that goes for the wine inside as well. Containing 25% Pinotage in honour of L'Avenir's signature grape, it's a fresh and fruity little number with lots of strawberries and cranberries.
Other nice bubbles in boxes include Haute Cabriere's Pierre Jourdans and a brace of wines from the top ranks of Distell. The Scintilla 2009 (R190), long one of my favourite SA MCC's, comes in a really funky, futuristic black box which puts me in mind of Star Wars for some reason I cannot possibly fathom. It's a limited release so grab it whilst you can and may the force be with you. And the Desiderius from Pongracz 2008 (R375) with its lovely fluted bottle in a smart but simpler black box, comes hotfoot from the Effervescents du Monde competition where it made the Top Ten, the only SA wine to do so. With the Scintilla spending 6 years on the lees and the Desiderius spending a minimum of 4 years, these bubblies are serious players, rich and savoury with lingering finishes and delicious, freshening acidity.
Fancy a little bling with your bottle? Well you could splash out on Bottega's new Pinot Nero Spumante (R390) which comes with little diamonds encrusted on the opaque black bottle. Bottega normally make Prosecco in their family winery in the Veneto region of Italy but although this made in the same method, it's a different grape – Pinot Noir – so can't really be described as a Prosecco. This is a good wine for people who prefer their fizz to be on the fresh and fruity side and if Scintilla was Star Wars, this is a bit more James Bond as played by Sean Connery – serioushly shmooth.
If money is no object, then the big name Champagnes have plenty of beautiful-looking bottles available.  The Cristal from Louis Roederer has to be the ultimate in larney packaging this year. At a function a few months ago, importers Reciprocal Wines relayed the story about the clear bottle – something originally intended for the Russian market. The Tsar wanted to make sure there was no poisons or other nasties in his champagne so requested a clear bottle which Roederer did, dressing it up in clear golden wrapping to give the wine some protection from sunlight as well as enhancing its bling appeal. It's not cheap at R3,295 a bottle but if someone gave me this beautiful baby on New Year's Eve, I would definitely have a night to remember and no mistake. Happy and bubbly 2016 to us all!!
Cathy's Top 5 Wines of the Year.
Graham Beck Blanc de Blanc 1992 RD – specially disgorged to celebrate Pieter Ferreira's Silver Jubilee with the farm and a leftover bottle was 'liberated' by me for later drinking. Wish I'd stolen a whole case.
Thelema Sutherland Unwooded Chardonnay 2015 – for some reason I haven't been able to get it out of my head all year. Just really, really enjoyed it – 'nuff said.
Mvemve Raats De Compostella 2013 – probably going to be my favourite red of this, and every single other, year.
Mullineux Olerasay Straw Wine NV – I was on this tasting panel for the Platters 5 Star tasting. Don't recall ever having a wine stand out so outstandingly from its competitors than this.
Dom Pérignon Oenothèque 1971 – what can I say? Once in a lifetime………