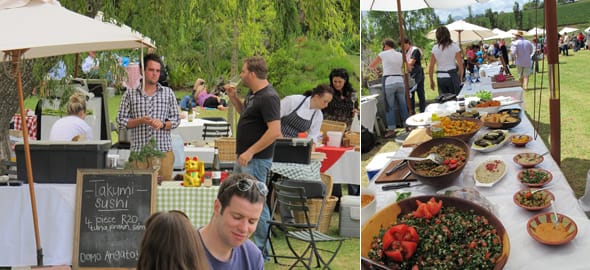 Hartenburg Riesling© Cape Times Friday 16th January 2015
I don't know about you, but I'm feeling a bit Chardonnay-ed out at the moment. Also, a bit over-Chenin-ed and even a teensy bit sick of Sauvvies as well. Not that I don't want to drink wine – can't ever see that happening if truth be told – but I'm just feeling a bit restless and in need of a change. According to Jancis Robinson's mega-tome 'Wine Grapes' there are 1,368 varieties used to make wine around the world, yet I (and many of you too, I'm sure) still mostly stick to the same 3 or 4 every single time. It's quite a mission to get new grapes approved by the authorities and to be honest, when they do, many of us treat them with suspicion, winemakers become discouraged and we all retreat back to boring old Chenin/Chardonnay.
It's very different in Australia where there are entire shows and competitions devoted to unusual grape varieties and now it seems that something similar will be running in a couple of weeks' time with the Riesling & Rarities event at Hartenberg Wine Estate which will showcase lots of wines which are genuinely food-friendly (and however much I love Sauvignon, it really doesn't go well with most food) and which actually work brilliantly in our hot climate. This latter is the main reason for introducing most of the new and more obscure varieties because if we can find white grapes which manage to retain natural acidity even when it's very warm, it not only saves money (you don't have to add acid) but it also makes for a much better-integrated wine over all.
It was for these very reasons that the Newton Johnsons decided to plant Albariño (Al-ba-reen-yo) on their Hemel-en-Aarde farm – they wanted something which would retain fresh, natural acidity and this native Spanish grape seemed to fit the bill. They are still engaged in a little hoop-jumping with the Wine & Spirit Board, but the first commercial release should hopefully come later on this year although quantities will still be small. Another grape variety entering its second year on the market is Grüner Veltliner (Groo-ner Velt-linner) as made by Durbanville producer, Diemersdal. This fresh and appetising wine is better-known in Austria but is doing very nicely in the cool Durbanville hills, making clean, zesty wines with a slight peachy/pear finish.
The Rhône Valley in France is home to quite a few interesting grape varieties, at least as far as SA is concerned. We've had Roussanne (Roo-sann) for several years now – best examples coming from The Foundry, Ken Forrester Wines and Simonsig – but last year saw its partner Marsanne (Mar-sann) licenced for production in SA as well. So far no-one appears to be ready to release one on its own although Swartland's Adi Badenhorst has been making a Chenin/Marsanne blend called Papegaai and apparently his neighbours Leeuwenkuil have also been using some too. Expect to see blends of these two, possibly with the addition of Viognier, appearing soon.
Another couple of unusual grape varieties have actually been in the country for a while but only now are they getting attention in their own right. Verdelho (Vur-dell-o) is a Portuguese grape which probably came to SA when we were bringing in other port varieties. It has a great natural acidity and although several people use it in blends (notably port-specialists, Boplaas) if you want to try a full-on Verdelho, look to Feiteras Vineyards in Bot Rivier or Flagstone's Stumble Vineyards range. Similarly, Southern French grape Clairette Blanche (Clare-ett Blonsh) has been around for many years, generally contributing to dry whites as well as being used to make brandy. This year it is finding a new lease of life as two of SA's Young Gun winemaking outfits – the Mullineuxs and the Cravens – make a version, both coming from patches of old vines, one in the Swartland and one in the Polkadraai Hills. These are just a few interesting things coming onto the market and if you want to try a few slightly more offbeat wines, get yourself to Hartenberg on the 31st January for the Riesling & Rarities Rock Festival. Tickets are R120