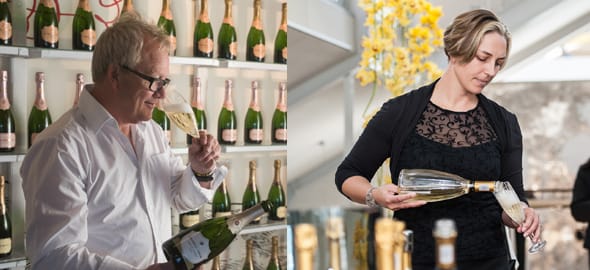 © Cape Times Friday 30th October 2015
I've had a very bubbly last few weeks.The Amorim MCC Challenge results came out (congrats to all winners), the Nederburg Auction served one of my favourite fizzes, Scintilla, non-stop to very thirsty guests, Avondale's Armilla won a major international award and two icons of the SA world of bubbles celebrated Silver Jubilees with two great events. For me – any excuse to celebrate with bubbly is a good excuse, but there's no denying that these two events were slightly better than most.
First up was the celebration of Pieter Ferreira's 25th vintage at Graham Beck Wines.  It's hard to imagine the world of Cap Classique without thinking of Pieter and his passion for his wines, his cheeky sense of humour, his super-cool footwear and his genuine joie de vivre. When he first started out at Graham Beck Wines in 1990, Robertson was neither well-known for Chardonnay, nor MCC and there can be little doubt that Pieter's efforts and achievements have helped put both on the map. MCC is such an important and growing category in SA and this is a lot to do with his enthusiastic chairmanship of the MCC association, which all makers of MCC are well-advised to join, offering guidance, advice and continually-driving standards upwards.
Graham Beck Wines is littered with accolades and testimonials of the great and the good around the world with the brand being chosen by royalty, presidents, film stars and more. They do three different tiers of wines, very much like most of the top Champagne houses in France, but at the recent celebration lunch they opened something which makes me think they should create a fourth tier of wine as well. My favourite wine from their stable has always been the Blanc de Blanc and for their celebrations, Pieter opened a 1992 which he had recently-disgorged. It reminded me of some of the finest P2 Dom Perignons which I was lucky enough to try earlier on this year – rich, savoury, salty, creamy – a wine to dream of over and over again. Graham Beck RD anyone? I'm right there.
Also celebrating 25 years in the business this year is an equally well-loved name – Pongrácz. Pongrácz winemaker, Elunda Basson, has a while to go to equal Pieter's record but she is nevertheless one of the longest-serving winemakers for the brand. Created 25 years ago in honour of Desiderius Pongrácz, a Hungarian viticulturist responsible for many of the vineyard practices still used today. 'Pongie' as he was known, was a larger-than life character and the celebratory party was all about being bold, over-the-top and exciting, matching the three wines in the Pongrácz range to different tapas nibbles. The prestige Desiderius with its very distinctive bottle was launched in 2002 (the 2003 won Museum Class in this year's MCC Challenge) and in 2009 the rosé Pongrácz was born.  The wine is now sold in 49 countries around the world with Africa being the fastest-growing region, making for a proudly South African story all round.
With new MCC's being launched almost on a weekly basis, it can be easy to forget such stalwarts as Pongrácz and Graham Beck, but I think the importance of having a brand and a winemaker solely-dedicated to crafting fine MCC cannot be overstated. People tend to think that if they can make wine, they can make bubbles, but this really isn't the case – sure you can have the odd flash in the pan, but to consistently top the awards lists around the world takes serious knowledge, concentration and effort. Staying put and getting really good seems to be the recipe for success in the world of MCC so happy anniversary Pieter and Pongie – may you continue to rock and rule the roost for many more years to come.