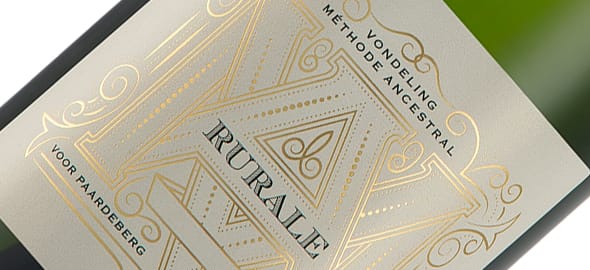 © Cape Times Wednesday 24th December 2014
There is such a variation of different bubblies available on the shelves at the moment. Different styles, prices, grapes used, amount of time spent on lees, no time on lees whatsoever, sugar levels etc etc – so many options that it is getting very confusing for consumers to work out the differences. So where do you start when it comes to choosing something to celebrate Christmas and pop open at your New Year's party? Well, here's a few of my suggestions as to what you should try – hopefully they will make this festive minefield a bit easier to negotiate this year.
Classically, Champagne is made from a combination of two black grape varieties and one white so it shouldn't be a surprise that so many fizzes are pink. It can be quite tricky to get the colour right, hence the normally slightly-elevated prices of rosé MCC. However, L'Ormarins have managed to keep the prices the same for both the 2012 Rosé and the white NV (R185) which means that it's the pink you should go for this year – made mainly from Pinot Noir with delicious berries and cherries. Another wine which bucks the 'pricier-pink' trend is the Allée Bleue Brut Rosé 2012 (R110) which is made in a fresher, fruitier style than the more serious and savoury Brut 2011 (R130).
If you prefer your bubbles white, then try a Blanc de Blancs – literally, a white wine made from white grapes. Mostly that means Chardonnay, although in SA, we can often add in some Chenin Blanc as well. Môreson make several sparklers including their entry-level Miss Molly, but it is the Solitaire NV (R110) made from 100% Chardonnay and aged for 2 years which is floating my boat this year. Lipsmackingly-savoury yet still refreshing and lively, this is a great drink with oysters. Equally good value this year is the Laborie Blanc de Blancs 2010 (R100) which has swept all the awards this year, including top prize at the Amorim Cap Classique Challenge, beating many fizzes twice the price and more.
But if you're a bit blasé about Blanc de Blanc, how about trying something really unusual? Vondeling launched their maiden 'Methode Ancestrale' this year, meaning a single fermentation took place, mainly in the tank but also a crucial part in bottle, giving it the signature yeastiness of an MCC and, of course, the bubbles. The Vondeling Rurale 2013 (R220) is the first wine made in this method in SA and is well worth seeking out, not just for novelty but also because it's darned tasty as well – a lovely balance between the zesty, lemony fruit and the tangy richness of the yeast. And whilst we're on the weird – do you know what a Crémant is? No? Well, it's a French wine made in the Champagne method but outside the Champagne region, using whichever grape varieties are licenced for that particular area. So Delaire Graff has created its own version of a Crémant de Loire from Chenin Blanc, Chardonnay and Cabernet Franc. Christened 'Sunrise' and costing R275 from the estate, it's equally good when the sun goes down as well.
Finally, non-drinkers don't need to feel left out when it comes to celebrations this year. Great value, non-alcoholic bubblies are widely available these days from producers such as JC le Roux or Robertson Winery, all of them in smart, modern packaging as befits today's sophisticated drinker, although the snazziest and smartest packaging this year comes from a Robertson Winery wine which does have alcohol, albeit not a huge amount. The new Lightly Sparkling Sauvignon Blanc 2014 (R50) is exactly that – lightly-sparkling, lowish alcohol (12%) with all the crisp tropical Sauvvie flavours you'd expect. A fun fizz for a festive summer.