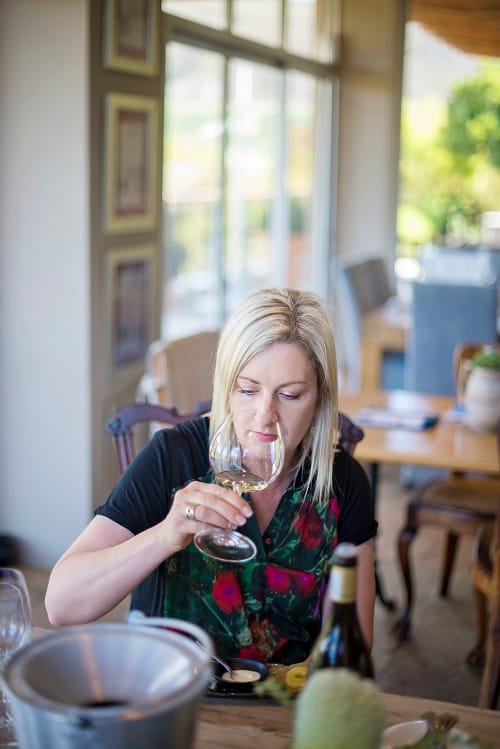 With a career deeply entrenched in the South African wine industry, Carolyn Martin, co-owner and marketing director at Creation Wines, tells us about her journey in wine and how the WSET courses have helped both her and her staff.
Tell us a bit about your journey in wine.
I suppose one could say that I'm 'to the manner born' – quite literally – as I was born in a red Ford Anglia, at the farm gates of my grandparents' wine estate, Hartenberg. My dad, Walter Finlayson, had to play midwife!  My earliest childhood memories are of my grandparents' farm and more specifically, of my grandmother Eleanor. She taught me so much about wine, cooking and entertaining.
I conducted my first wine tasting at the age of five when I was unable to find Grandma to attend to visitors. I knew the guests had to be taken care of, and I reasoned that I'd heard enough to get by. Eventually we found Grandma half way through a cellar tour.
After school I went to study design at the Michaelis School of Arts at the University of Cape Town, and wrote my thesis on champagne. I then moved to London where I eventually launched my own design company, focusing on brand development of world-renowned brands such as Laurent-Perrier. During this time we pioneered canapé and wine pairings, serving petit fours from Le Gavroche with the famous botrytised wines of Tokaj, or Scottish salmon gravlax and caviar with Laurent-Perrier champagne. It was a period of much learning and travelling to different wine regions around the world.
In 1999 I married the Swiss winemaker, Jean-Claude (JC) Martin and we settled in the Winelands of Neuchâtel where JC was a director and co-owner of the famous winery of Grillette. Three years later we bought Creation on the Hemel-en-Aarde Ridge and set out to turn what was virtually a wilderness, never planted to vines before, into what has become a successful wine estate as well as a popular wine destination.
You've put a great deal of your staff through WSET qualifications – why do you think they are important?
The qualification is globally recognised and respected, equipping the successful student with in-depth knowledge (depending on the level) of a wide range of subjects – from grape growing and winemaking through to the different styles of wine. We have seven pairing options on offer and it is important that they are presented by knowledgeable and confident ambassadors.
Do you think having a WSET qualification helps your staff sell more wine?
Yes. Apart from the above, I want to stress that most of our visitors want to know more about our wines and about wine in general. In our Tasting Room selling is also about educating and building trust. What I also enjoy about WSET is that it gives the staff a chance to explore wines through a structured tasting process, transferring the knowledge and terminology to accurately describe wines. Depending on the level of qualification, they are able to explore specific wines with clients and compare them in terms of type and style to others around the world.
Creation is widely recognised for its food and wine pairings, what's your secret?
Growing up on Hartenberg, a working farm and vineyard, I developed a natural love for food from a young age.  This led to experimentation, using guidelines such as flavour (which includes aroma), taste (which can be broken down into salt, sweet, bitter, sour and umami), texture, colour, balance and even temperature.
While the above properties all play an important role in pairing, I also believe that there is no formula when it comes to finding the perfect match. Both experience and intuition are important and the most unexpected pairings are often the best. Instead of tried and tested combinations, use your imagination and be creative. Also remember that the environment – the mood, the atmosphere and the company – plays a critical role in our appreciation of food and wine.
You're quite the seasoned traveller, how do South African wines fare against their international counterparts?
Very well, but many of the wines are still undervalued. We need to make sure that we recognise their place on the world wine stage. In South Africa, certain winegrowing areas definitely have the ideal terroir combined with know-how to create winning wines that excite the palate and tantalise the imagination.
What has been your most memorable wine moment?
Having to step up to the mark when I was five and do that wine tasting!
Do you have any advice for cultivating a career in wine?
Do this if you love wine; it is part of a great lifestyle and you meet interesting people on the way! It can open many doors, to the hospitality industry, for instance.
To be successful you need to be passionate, innovative, knowledgeable and multi-faceted. You need to be an individual as well as a team player and definitely a people's person, as the feedback from clients plays an important role in your success. It furthermore requires good organisational skills and the discipline to enjoy without overindulging.