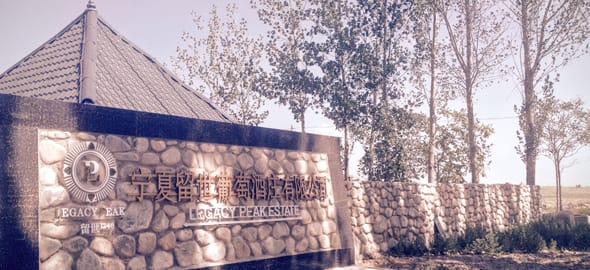 Wine fundi, Leigh-Ann Luckett, continues with her travels around the world in search of wine….  China.
Legacy Peak, our next stop, could not be more of a contrast to Changyu. Simple & understated, the only show of pomp being a row of empty wine bottles from around the world which the director prized (including a Vilafonte Series C 2008) & a small plate of Iberian ham on the table laid out for our tasting. There was even shock at the idea of not being allowed to taste when we enquiries whether there would, indeed, be wine on the cards.
The first winery in the area to export their wines, Legacy Peak is also the oldest vineyard in the Ningxia province with vines planted in 1996, set amongst the 1000 year old Xixia King Tombs. This certainly adds to the scenery but puts the vines & expansion plans at risk should the government go ahead with plans to reclaim the land the farm occupies. Not that there isn't enough risk as is with the icy cold winters – every year approximately 20 – 30% of vines up to 6 years of age don't survive despite being bent over & buried up to the first trellis line. Sometimes all that survives are the cement posts – preferred to wood as they're cheaper, easily available & last longer than the traditional wooden posts. The 450 mu (approximately 3,75 ha) of organic vines sit at 1246m above sea level & consist mainly of – you guessed it – Bordeaux varietals Chardonnay, Merlot & Cabernet Sauvignon with a spot of a French hybrid grape, Marselan (a hybrid of Cab Sauv & Grenache). There's also a sense here that China is still finding its feet with which varietals are best suited to the land and what the defining characteristic of Chinese wine will be.
We dutifully set about exploring this. The Chardonnay beautifully floral on the nose with fresh litchi & elegant citrus on the palate; the rosé a little sweet (thanks, market) tinged with geraniums; the Cabernets – Estate & flagship, Kalavinka, both bold with slightly spicy red fruits & to be afraid of ageing.
We further explored the wines with many toasts, over a generous lunch of local lamb with the team. We were back in luck, twice over.