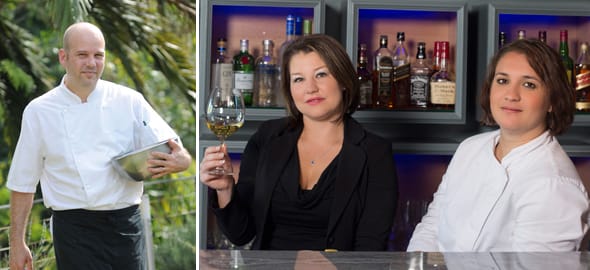 © Cape Times Friday 17th October 2014
Is food and wine matching a real art or a load of rubbish? It's a fair question with every hotel and restaurant offering wine-matching dinners and events, every recipe site suggesting the best tipple to suit the food and every back label on every bottle giving droolicious ideas of exotic-sounding dishes which will complement the wine. In my opinion, the best wine with food is generally the one you enjoy, but where do you start when you want to make a great food-match? Do you decide what food you want to cook and then try and think which wine might work? Or do you start with a special bottle and match the food flavours accordingly? I've been to a couple of events recently, which have tried both these ways, so here is what the chefs and sommeliers have to say.
Makaron at Majeka House is an Eat Out Top Ten contender this year, offering delicious and unusual food concocted by Tanja Kruger. A member of the Culinary Olympics team, Tanja has been lucky enough to complete several stages at Michelin-starred restaurants in Europe and the fruits of her experience can be seen at an exclusive Kitchen Table for only 2 guests at any one time. Seating is limited because this is an actual table in the kitchen where you get served a range of dishes chosen and served by the chefs themselves.
In Tanja's opinion, the food should always be the shining star of the meal and so faced with the tough job of matching these dishes is WSET-trained sommelier Esmé Groenwald. According to Tanja, "I don't always make it easy for her (Esmé) but I don't think any dish is unpairable!" My husband does some work for Majeka House so we were lucky enough to experience the Kitchen Table for ourselves, and probably the best pairing of the night was the little-known Vendome 'Sans Barrique' white blend which had both the depth and the delicacy to match the visual knock-out Ancient Grains with Cauliflower Velouté – a dish so beautiful, we didn't know whether to eat it or frame it on the wall. Esmé says she chose this pairing because "it's funky, as is the dish!" with the Semillon enhancing the nuttiness of the grains and the Sauvignon balancing out the creaminess of the cauliflower.
Starting the other way round is the task facing chef Carl van Rooyen, executive chef, and restaurant manager David Wibberley from The Square at The Vineyard Hotel. They run a series of wine-matching dinners with top wineries and I joined them for the Thelema dinner a few weeks ago. Carl says he often gets asked how they match the food to the wine and at The Vineyard "it's a democratic (well, mostly) process with a partnership between chefs and managers, food and wine!" And indeed, the process does seem to be a source of much debate all round. Each winemaker provides wines which he or she would like to show so here, the wine is the starting point. The chefs line up an array of seasonal dishes, then they, plus a few lucky others, get to try as many combinations as possible in search of the perfect match.
Carl says "The first rule of the pairing process is that there are no rules. We leave all of our preconceived notions at the door – in fact we have a naughty corner for those who dare to break this rule!" and when you see some of the interesting matches they came up with, you'll realise that they stick to this. The first course of 'Bangers 'n' Mash' featuring a rooibos, honey, fennel and smoked pork belly sausage is as far away from a likely pairing with Thelema Sutherland Sauvignon Blanc as I can imagine, yet the dish carried it off with aplomb. Two different ways of matching food and wine but both deliver the same end result – an enjoyable evening of eating and drinking. Surely that's the goal however you go about it?