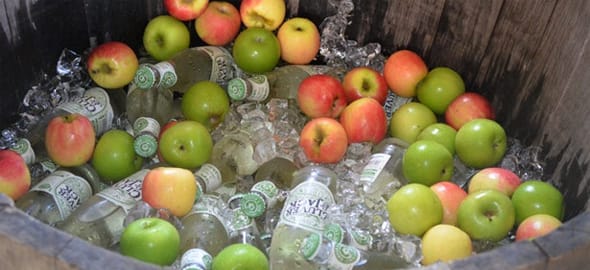 Cluver and Jack Cider© Cape Times Friday 12th December 2014
How did you spend the last weekend in November? I was torn – literally – torn this year between what are traditionally two of my favourite events – the Franschhoek MCC & Champagne Festival and the Cape Town Festival of Beer. Holding them on the same days was cruel indeed, forcing me to wonder where my loyalties lie, because I have to confess – I chose beer. Yes, even though my life revolves around wine, it was the amber nectar which saw me spending my day chilling out in Green Point surrounded by copious pints, some excellent empanadas from El Burro and a totally rocking band. And I wasn't the only one – not only did I see several wine-folk of note milling around the tents, but there was also a growing number of breweries whose brewers are ex-winemakers. There, pouring on the day, were Roger Burton (ex-Tierhoek Wines, now Long Beach Brewery), JC Steyn (ex-Dornier Wines, now Devil's Peak), Rob Armstrong (still Haut Espoir Wines but now also Ndlovu Brewery), Mark Goldsworthy (ex-Edgebaston, now Red Sky Brew), Chris Spurdon (ex-Rust en Vrede, now Apollo Beers) and there are countless other winemakers dabbling in beer on an amateur basis as well.
You'd be forgiven for wondering if there is something wrong with a winemaker's lot, since so many of them decamp to other beverages and so it was quite refreshing to hear from two craft cider producers that all three winemakers involved will continue to ferment, rack, blend and bottle their wines as well as diversifying into other alcohol markets. William Everson is an old friend whose wines we used to sell over the years in our restaurant. He started making cider around four years ago and the business has rather overtaken the wine-side with 7 products available, all made from actual fruit as opposed to concentrate (which is the normal, commercial way of producing 'cider' in SA) and all tasting delicious. Try the new Gnarr Scrumpy which is handmade from organic apples and aged in chardonnay barrels before release, it's priced around R140 a (large) bottle from specialist retailers.
If your appetite for real cider is whetted, then you need to try the new Cluver & Jack craft cider which was launched last week. It's a collaboration between Paul Cluver of Paul Cluver Wines and Bruce Jack of Flagstone and The Drift Wines, it is also made from proper apples, something which is immediately apparent as soon as you open the bottle. Bruce Jack's great grandfather was one of the first people to plant cider apple trees in SA but the new cider is made from familiar varieties such as Granny Smiths and Pink Lady. Bruce has made cider for many years in SA as well as Ireland but this new cider was made at the Paul Cluver winery. For the Cluvers, it's a chance to add value to their apple growing facility as well as create jobs and it's hoped that other different types of cider will follow this initial release.
In a week when craft beer sales reportedly outsell Budweiser in the States and with the global market for cider increasing year on year, it certainly makes sense for winemakers to diversify into new drinks. But as if to reassure us that he wasn't entirely leaving his roots behind, lunch at the launch (prepared by Bertus Basson from Overture) was accompanied with Bruce's new Pinot Noir from The Drift. There Are Still Mysteries Pinot Noir 2012 is a smoky, complex, heady mouthful of perfume and spice with delicate oak and an endless finish. Not cheap at R850 a bottle but worth a splash-out this festive season for sure.