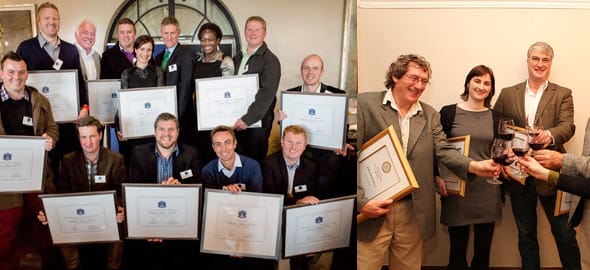 © Cape Times Friday 19th September 2014
It seems to be competition season again and my inbox is reeling under the weight of yet another announcement of yet another gold medal/top trophy/five star rating from yet another competition of some kind or other around the world. Excuse me if I seem a bit cynical but with so many awards stickers on bottles these days, I often wonder if people actually care? Well, all the evidence suggests that consumers actually DO care about awards and a bottle bearing a shiny sticker is more likely to be picked up and bought than a plain one apparently. But not all competitions are equally rigorous and the biggest question is, which ones should you pay attention to and which are like going to a children's party where everyone picks up a party pack as they leave?
A lot of people prefer to enter overseas competitions which they believe gives them wider coverage and therefore better bang for their competition-entry-fee-buck, but two home-grown ones which have taken place recently give scope to varieties which are proudly South African – Chenin Blanc and Pinotage. The problem – or maybe it's their biggest plus-point – with both varieties is that they are incredibly versatile, making simple, everyday drinking versions, richer and riper wines, sparkling ones and in Chenin's case, sweet wine and in Pinotage's case, rosé.
Sadly, this variety of styles doesn't appear to have been acknowledged in the Top Tens of each variety (perhaps a rule change and some different categories might be in order?). Instead, the judges of each competition have gone for quality über alles. One particularly interesting result was the fact that Simonsig, Bellingham, Spier and Rijk's featured in the Top Ten of both competitions – something well worth celebrating at those particular wineries. Both competitions are sponsored by banks – Standard Bank for Chenin and Absa for Pinotage and I must say that I find it particularly praiseworthy that all the prize money awarded to the Chenin winners must be spent on upliftment and enrichment projects for the workers at the wineries concerned.
Almost as interesting as these larger competitions are two others which took place recently, both of them celebrating that oft-overlooked style – the blend. Wine judge Christian Eedes convenes a series of interesting tastings throughout the year and generally unearths some exciting wines. Announced last week at a super-smart event were the RisCura White Hot Wine Award winners for white Bordeaux blends. This category, which covers wines made from Sauvignon Blanc blended with Sémillon, always offers tiptop quality and this year was no exception with Nitida Coronata Integration, Highlands Road Sine Cera and Morgenster making up the top three. All three wines offered lively yet complex flavours with beautifully-integrated oak and are well-worth seeking out for superior summer sipping this year.
The other blend competition announced last week was the Perold Absa Cape Blend top five which featured newcomers Blake's Wines as well as Cape blend stalwarts, Clos Malverne and Kaapzicht. What was interesting about the five winners were the varieties used to blend with the compulsory Pinotage component of between 30 and 70%. Kaapzicht chose to go with Bordeaux varieties (Cabernet Sauvignon and Merlot) whilst Painted Wolf and Rhebokskloof went with Rhône grapes in their blend (Shiraz, Mourvedre, Grenache) and Blake's and Clos Malverne combined both regions to great effect. All these winners will be on the shelves shortly, if not already, so keep a look-out for these stickers and make up your own mind as to whether they're justified or not.