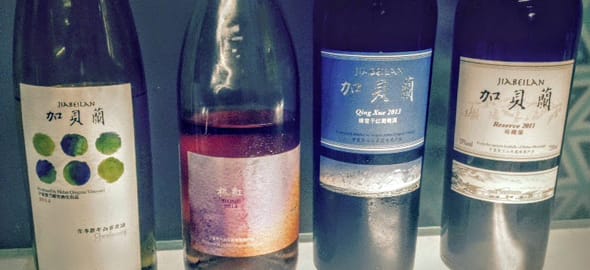 Wine fundi, Leigh-Ann Luckett, continues with her travels around the world in search of wine….  China.
Named after a poem about 1 of the 8 revered landscapes of the Ming Dynasty (no, I'm not clear on the details of what that means), Helan Qingxue claims the best view of this landscape at the foot of the Helan Mountains.
Established in 2005 by a viticulturist, winemaker & business manager, the winery was the first in China to win an international accolade in 2011 in the form of a Decanter International Trophy. The wines, called Jia Bei Lan or "Little Feet" in honour of the birth of dynamic winemaker, Jing's daughter, have continued to grow from strength to strength since, with growing export opportunities & a stream of praise from international wine lovers. All of this we learned from the obligatory corporate video with a few tidbits from Jing herself.
Our host was happy to meet South Africans after playing host to a South African winemaker in 2012 during the inaugural Ningxia International Wine Challenge – a competition created & funded by the local government with a little help from the participating wineries; which allows a selection of winemakers from across the globe to produce a vintage of Cabernet Sauvignon over 2 years with a cash prize awarded to the wine judged as best. There are 3 South African participants in the current challenge.
We toured the, again, immaculate cellar, tasting the new vintage of entry-level Cab on its way to bottle as we made our way around; passing locally made bee-hive shaped tanks (which Jing was the first to use due the shape being ideal for red pump overs & press downs due to the shape) & barrels signed by the many notable international visitors while discussing the enthusiasm of Chinese wine-lovers to gain their WSET Level 4 qualifications, with over 20 Level 4 graduates to date.
This led us to the Cellardoor which is set to launch in the next year including a simple food offering. Lined up to taste, we had an unwooded Chardonnay in a Riesling bottle (tinned peas & lime on the nose with apricots & citrus on the palate); a Cab Franc Rosé (slightly sweet despite its savoury nose); a Cab Merlot blend (Moroccan spice & grippy tannins); & a Reserve Cab (eucalyptus & light violets). Again – all Bordeaux varietals. From Jing's perspective, these are the best varietals for the area which requires grapes with a short growing period to allow sufficient time for the vines to rest after harvest,  before being buried for winter (an activity which accounts for 30% of the production cost of the wine). Thoroughly enamoured with the wines, the winery & the winemaker, it was unfortunately time for us to bid farewell. No time for us to rest; our next stop beckoned.
More photos here – Google Photos.