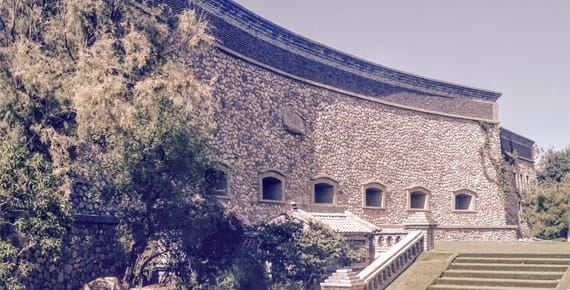 As the day drew to a close, we had one final stop ahead – the first our driver was actually certain of the location of.
Also, certainly the most beautiful we had visited to date. The chateau, the largest in the region, is a tribute to the owner's (who never drinks a drop of wine) love for rock & stone, showcased in a multitude of forms. From the buildings themselves, to intricate carvings & artworks tastefully dotted throughout; and soon to include a rock museum as well. Construction on the chateau began in 2008, to be completed in 2014. This seems an awfully long time on paper, but a walk through the winery & surrounds quickly reveals the extreme attention to detail, accounting for the time spent. From stone & rock collected throughout China, to ceilings lined with interwoven twigs to buffer sound & boundary walls constructed from rounded  tiles to allow birds to nest.
Accompanied by winemaker, Sujie, we toured the production facility, comprising only machinery imported from Italy; the extensive cellar & private cellaring for clients who purchase whole barrels & bottle with their own labels; through a number of tasteful displays to the tasting room where the ceiling is crafted from the skeleton of the hull of an old ship, with the tables & chairs crafted from the same wood.
Here, we tasted through a lovely, bronze Decanter winning unoaked  Chardonnay, of which very little was bottled due to limited demand for white wine in the local market (the rest of the harvest was used for brandy production); a 2013 Cab Sauv with a spot of 2014 added to perk it up; the estate's flagship red blend, Soul Mountain (Cab Sauv, Cab Franc & Merlot); and a very interesting private project of Sujie's – an unfiltered & unfined Cab Sauv 2014 of which only 800 bottles were produced. While we were delighted at the honour & impressed by each wine in turn, Sujie remained critical of her work.
We felt this was a fantastic end to a fascinating & highly rewarding day. We looked forward to day 3.
More images on Google Photos.