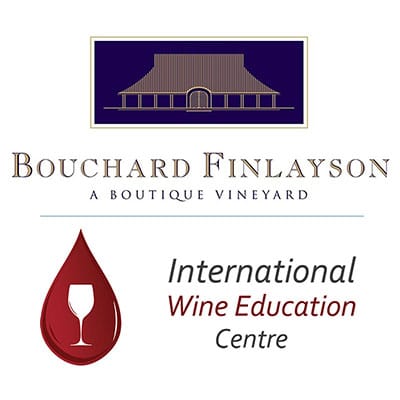 Boutique wine estate Bouchard Finlayson is delighted to announce the creation of a new scholarship enabling a wine student in South Africa to further their education by means of a Wine & Spirit Education Trust (WSET) Level 3 scholarship worth R13,500.
Passionate believers in wine education, Bouchard Finlayson have teamed up with Africa's leading WSET course provider, The International Wine Education Centre (IWEC), to award one deserving student the chance to take their career to the next level. WSET Level 3 in Wines is an advanced course giving students a thorough grounding in viticulture, vinification, international wines and different wine styles. WSET courses are the industry-standard wine courses in over 75 countries with more than 100,000 people sitting a WSET exam in the last 12 months.
The WSET Level 3 course will be provided by either the IWEC or the KZN School of Wine and the successful candidate can choose whether he or she would like to study in the Western Cape, Gauteng or KZN. Cathy Marston DipWSET from the IWEC says "This is an incredibly generous offer by Bouchard Finlayson to support wine education in South Africa. The lucky recipient will have an amazing opportunity to obtain a highly-regarded qualification which they can use to further their careers either here in SA or overseas. On behalf of the wine industry, I'd like to thank Bouchard Finlayson and the Tollman family for their generous support." Bouchard Finlayson's General Manager, Judy Bakker, says "Introducing the Bouchard Finlayson WSET Scholarship allows us to give back to the South African wine industry and market, and to contribute to the personal development and education of a deserving candidate."
APPLICATIONS ARE NOW CLOSED!
Rules & Conditions
The scholarship is open to anyone in South Africa over the age of 18 except for employees of Bouchard Finlayson Wines and Red Carnation Hotels who are not eligible to apply. You do not have to be employed in the wine or hospitality industries in order to apply for this scholarship.
Applicants must have already passed WSET Level 2 or an equivalent level of competency from CWA (Certificate plus Wines of the World).
The scholarship winner agrees to take part in publicity surrounding their scholarship, as well as to contribute a report to Bouchard Finlayson after the course about their studies and how it has helped them.
The scholarship includes a place on any WSET Level 3 course (worth R13,500) run before the end of 2020 in either Cape Town or Stellenbosch in the Western Cape, Dunkeld in Gauteng or in Lions River in KwaZuluNatal, as well as a visit to Bouchard Finlayson winery in Hermanus to spend time with key winemaking personnel.
The scholarship does NOT include any travel or accommodation associated with either the entrance interview, the course, the exam or the farm visit.
Should the winner subsequently fail the exam, retakes will be for their own account. Winning the scholarship does not guarantee a pass in the exam and does not constitute an offer of employment in any way.
How to Enter
Send your CV plus a motivation letter of not more than 500 words to scholarship@thewinecentre.co.za
These will be processed and a shortlist drawn up after which an interview will take place in Cape Town to decide the final winner of the scholarship.
Applications must be submitted by 28th February 2020 and the recipient will be announced Monday 6th April 2020.
Further Information
About Bouchard Finlayson and their award-winning wines, please contact info@bouchardfinlayson.co.za / www.bouchardfinlayson.co.za
About IWEC and their internationally recognised WSET wine courses, please contact courses@thewinecentre.co.za / www.thewinecentre.co.za