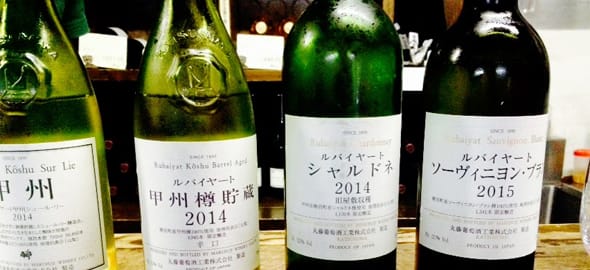 After the trials of planning & executing a wine tour in China (all well worth the effort in the end, however) – planning for Japan was a dream! Detailed brochures & maps of our selected area, Yamanashi, prepared just the year before by the tourism department gave us a good steer. These were supported by many suggestions & bits of advice from the wineries themselves – we were even reminded to wear sunscreen! The locals in nearby Kofu (and even Tokyo), where we based ourselves, were proudly aware of the wine industry in nearby Katsanuma & very happy to share their personal favourites, another contrast to Yinchuan. From a country where approximately 50% of the population are alcohol intolerant & only 3% of the drinkers prefer wine, we were impressed. We were rather optimistic about what lay ahead, despite several warnings that there may not be English staff available when we planned to visit.
Arriving in Kofu the day before our winelands excursion, we keenly planned to go about laying some groundwork in the form some pre-emptive tasting at wine bars dotted along the high street. High prices coupled with small by-the-glass selections & the ever-present "seat charge" put a swift end to that idea, especially since most Japanese wine is more expensive in Japan than imports (KWV is the staple South African representative, we learned) & only 1/3 of the wine sold in Japan is local; however we did manage to find a small gem with good quality wines at less than extortionate prices. A bit of chatting explained why many Japanese wines are bottles in 720mls (using traditional sake bottles produced locally which are cheaper), an indication of a keen awareness of South African wines & suggestions for some splendid dinner.
Well sated with a deliciously simple tempura dinner, we looked forward to quality wines ahead.
More images here at Google Photos.