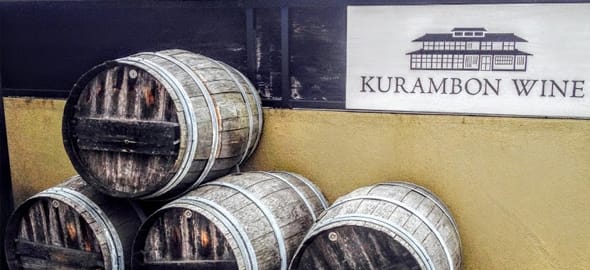 Japan, and especially the Katsunuma valley we were visiting, prides itself on their local grape varietals, mostly so Koshu & Muscat Bailey A. Having sampled mass-produced examples of both on the lead up to our visit, we were anticipating some more diverse offerings from the small-scale wineries on our itinerary. As a bit of history, Koshu is a native grape, approximately 98% vitis vinifera but still commonly used as a table grape. It tends to be quite airy & needs a bit of acidity to perk it up from what we've learned. Muscat Bailey A is a crossing of American varietal, Bailey A & Muscat Hamburg, typically very light & fragrant. Both Koshu & Muscat Bailey A share a distinctive subtlety which is a perfect match for the extreme subtlety of the flavours in most Japanese cuisine. In Katsunuma in particular, where mildew is a constant challenge due to high rainfall, it is the exception rather than the rule to find wines that have not been chaptalised in order to increase the alcohol volume, where wines with no sugar added during fermentation (that's the chaptalisation) tend toward an alcohol of 8%.
While our first visit of the day, to Marifuji, left much to be desired in terms of wine, it was the only opportunity we had for a cellar tour. And an unusual cellar it was at that. With no temperature control in the wine storage area & old sake storage tanks being repurposed for wine storage, we did express mild concern about the excessive heat common in the area. Our Sommelier-turned-winemaker host seemed unfazed. In turn, we were rather unfazed by the wine, unfortunately.
We found a completely different approach at Katsanuma Winery, just 10 minutes walk away.
Here, we were greeted with the option to taste 5 current release wines – which ended up closer to 10. We tasted Koshu in so many sharps & forms, I was absolutely astonished. From unoaked, lightly sur lie to aged & oaked examples, from sticky sweet to wines concentrated by freezing the must & removing the water. What a showcase of a very diverse bit of fruit, supported by somewhat unexpected labels – all designed by an octogenarian woman in Portugal.
Our next stop entailed a walk up a hill, past numerous thick-trunked single vines trellised to the height of a compact delivery vehicle & covering almost an entire field, carrying up to 500 bunches.
Here, at Grace Vineyards, we met with the winemaker – a student of Bordeaux who has spent some time harvesting in South Africa (at Cape Point Vineyards & Hermanuspietersfontein respectively). While the majority of winemakers in the region are content with buying fruit from these typically bulk-bearing vines, at Grace there is much more stringent focus on the vineyards with massal management being practised in a select vineyard planted in 2002 in the Toribira region – touted to be the best vines in Japan. And the results are evident from tasting & confirmed by Decanter with one wine scoring 95 & another being awarded Best Wine in Asia – although you'll never know from the  bottle. They don't use the stickers – they spoil the aesthetic.
A longer walk brought us to a more diverse winery, Kurambom, focusing on natural & organic wines. Another interesting set of labels – this time inspired by the artist's imagination after tasting the wines. From a Koshu bottled after 1 month's fermentation to the bottle of "happiness vintage" Chardonnay that had been open for 3 weeks & a sparkling Aldiron (another new grape) that was pretty much as close to Fanta Grape as one can imagine; we certainly saw a different side of Japanese winemaking. A side we would explore further at Haramo, where blended grapes abound. Their Rouge includes an array of experimental crossings resulting in a fresh, tart cherry, gummy kind of palate. Their variety of Koshu showed the impact of altering harvest time, yeast, fining, barrel age, bottle age & lees contact.
By this point, we were well & truly Koshu-ed out & made our way back to Kofu to contemplate the intricacies of Koshu.
Thank goodness that was before we fell down the rabbit hole that is sake!
More images here at Google Photos.
Read more on Leigh-Ann's blog here.