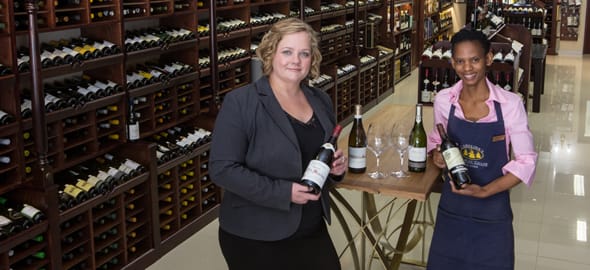 © Cape Times Friday 20th March 2014
How do you buy your wine? Do you load a couple of bottles into your basket as you scurry around the supermarket? Do you take time out to go and get specialised advice from a store? Or do you prefer to do your shopping online in the wee small hours of the morning and get it delivered later? A few decades ago, we would all have had our own wine merchant, buying up top Burgundy and Bordeaux for us and laying down a few pipes of port for our children's 21st birthdays. But time is a precious commodity nowadays, although it does make me a bit sad to think that buying wine is no more exciting than buying baked beans and toilet roll.
Enter Wade Bales, owner of the eponymous Wade Bales Wine Society, who makes it his mission to seek out small parcels of the unusual and the interesting and bring them direct to your doorstep. IN particular, I can highly recommend the range of wines made personally for him by winemakers such as Thys Louw from Diemersdal and Beyers Truter from Beyerskloof. I tried the Sauvignon made by Thys last year and it was a triumph – wonderful Sauvignon fruit, zingy acidity and a lipsmacking finish and all at a very good price. If you're seriously lazy, you can get him to simply deliver wine to you without choosing it at all by signing up for a bi-monthly case of wines which comes with Wade's guarantee of enjoyment – how's that for personal service?!
Convenient though buying online is, sometimes there is no substitute for face-to-face contact. Caroline Rillema has been mind-reading her customers and anticipating their wants for almost 20 years in her store on Strand Street, and has just opened a new branch of Caroline's Fine Wines in the Southern Suburbs. It's a nice location, in Tokai right next to Societi Brasserie and just round the corner from Steenberg Village, but the biggest plus for me is the people in the store. With so many wines to choose from, many people find it hard to know what will suit their tastes, budget and occasion.
Enter manager Lara Jordaan and assistant Lusanda Thom, both of whom have passed the internationally-recognised Wine & Spirit Education Trust (WSET) exams at different levels – I have to confess an interest here since I taught them both! But what this means is that they have a broad and wide-ranging knowledge of not only the local labels, but also the international wines for which Caroline is famous. If you want personal suggestions, from people who genuinely listen to you and want to find you your perfect wine, then this is definitely the way to go.
Of course Caroline's is not the only fabulous wine shop in town – you could also try Wine Concepts, Vino Pronto and Norman Goodfellows, all of whom offer personal service with knowledge, flair and a smile. And equally so, Wade isn't the only online retailer out there by a long chalk, with the likes of Cybercellar and Getwine happily filling the cellars of many of a thirsty drinker. Lots of wineries run their own private wine clubs which are great ways of saving money on your favourite wines AND getting invited to exclusive events, and don't forget your big independent retailers like Ultra Liquors who boast a WSET-trained wine advisor in most of their stores. Wine is such a personal thing, that you really should buy it from people – whether you pop into a shop, fall in love with a particular farm or grow a great relationship with a buyer you trust. I promise you it will taste better if you do!