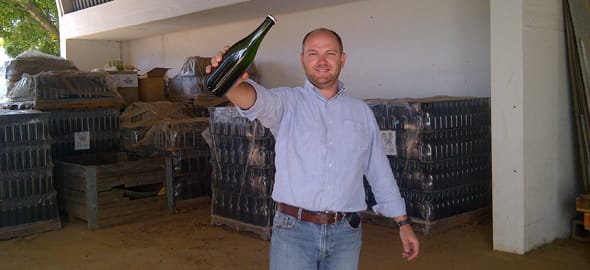 © Cape Times Friday 21st February 2014
I seem to be going through a bit of a Chardonnay craze at the moment. I began the year with an interesting clonal tasting of Richard Kershaw's 5 star chardonnay from Elgin which was re-tasted again in a well-organised Elgin Wine Valley 'tweet-up' last week at Caroline's Fine Wines. And now here is another wine farm doing something interesting, unusual and ultimately (the most important factor) delicious with the world's favourite grape.
Eikendal in the Helderberg has been on an upwards curve for the past few years now, in no small part due to winemaker and vine-lover Nico Grobler. Realising a few years ago that the big-volume, inexpensive branded wine market was not for them, he and the farm's owners took the wise decision to invest for top-end success instead. For Nico this has meant an extensive re-planting programme, digging up his previously rigid vineyard layout and replacing it with a variety of different planting and training treatments, each one suited each particular vineyard. "I had a heck of a shock when I showed a French vigneron my vineyards some years ago" he remembers. " I was really proud of them because they all looked so neat and uniform, but he took one look and just asked 'How can you plant them all the same when they're all different?' From that day, my way of looking at growing grapes has completely changed."
So for starters, he's uprooted more than half the original vineyards, some of which he's replanted according to the different soils and aspects. Each block has its own plan from start to finish, breaking up a homogenous estate into a mishmash of different row directions, trellising options and canopy management strategies. But it's when it gets to the winery that the really interesting stuff begins to happen. Following his Burgundian mentor, Bruno Lorenzon, each block of Chardonnay has its own set of barrels – some 1 year old, others 2 or 3 years and each set gets supplemented by a few new barrels each year.
What Nico does then is something I've never heard of before in SA. When a wine goes through fermentation, the dead yeast cells or 'lees' normally fall to the bottom of the tank or barrel and, after a time, the wine gets drawn off and the barrel cleaned ready for the next year's wine. Nico doesn't do this – he removes the wine for bottling as normal, but then puts the new vintage straight into the barrel, mixing the previous year's lees with the new vintage wine. The results? A much fresher, livelier, more complex chardonnay and one that is definitely beginning to turn heads both at home and overseas, if the recent rash of gongs and medals is anything to go by.
This is an incredibly risky practice as Nico would be the first to admit, but he also believes that "you have to just follow your wine." His attention to detail and passion for excellence make for wines that are already incredibly pure and fresh but he isn't stopping there. His focus now is on canopy-management as he believes that deciding how much foliage to leave on his vines and when best to prune is the secret to increasing that sought-after hallmark of Burgundian Chardonnay – minerality. "I'm not growing grapes, leaves or canopies – I'm growing flavour" he claims. With Eikendal's first ever Platter 5 Star award this year for their red plus Nico's passion for Chardonnay flavours, nobody should doubt that a partner plaudit must surely be coming soon.
If you want to see what I'm on about for yourself, then join Eikendal for their annual 'Weintaufe' on 2nd March. There you can taste the 2014 Chardonnay which I, in my role as 'Godmother of the Vintage' will then 'christen' before we all enjoy a lovely, relaxed family day out of good food, live music, fine wines and other entertainment. Tickets are on sale for R30 (kids go free) from www.eikendal.com – see you there!