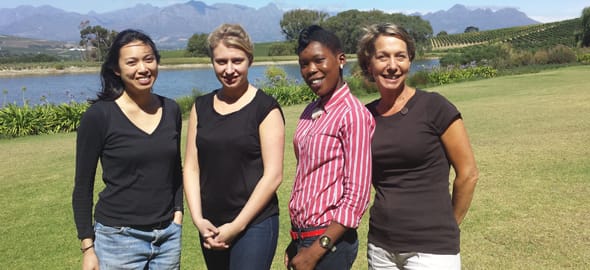 The first two candidates for the Jordan Wine Estate Women in Wine Initiative, launched in October 2012 in London by Kathy Jordan, have arrived in South Africa to experience and participate in the 2014 vintage at Jordan Wine Estate.
The response to the invitation to apply for this experience was overwhelming with candidates applying from all over the world and from different fields of the wine industry.
Two candidates were selected, Regine Lee, an American national, living in the UK and working for the Wine and Spirit Education Trust (WSET) and Laura Atkinson, a UK national, working at Berry Bros & Rudd. Both have recently received their Certificates for the WSET Diploma.
Regine and Laura recently arrived in Cape Town, just in time to familiarise themselves with the Jordan Estate cellar before the start of the 2014 Harvest which is due to begin by the second week of February.
"Growing conditions during the build-up to the 2014 vintage have been challenging, with the highest rainfall in 150 years experienced during winter and spring. This harvest we will have our work really cut out for us," commented Kathy.
During their 6-7 week experience both Laura and Regine will be working together with the Jordan Harvest team, actively experiencing and participating in all aspects of the winemaking process from grape sampling and harvesting to all red and white wine cellar work that occurs during the harvest period. They will also learn how to adjust the winemaking techniques for the different varieties that are harvested at Jordan, from the grape, through fermentation and finally to barrel. "I am really looking forward to this incredible hands-on experience – a once in a lifetime opportunity", stated Laura.
"We are very excited to have these two very qualified women join our cellar team and experience the 2014 vintage with us," said Kathy Jordan. "Lungiswa Sithole, our South Africa Women in Wine Candidate, will also be joining us to spend some time in the cellar during the vintage to gain further knowledge of a vintage at Jordan." Lungiswa, who works in the hospitality industry in Cape Town has already successfully completed her WSET Level 1 course sponsored by Jordan Estate and is preparing for the Level 2 course later this year.
Other than experiencing the vintage at Jordan, the two interns will also be visiting cellars in other regions to better understand the South African wine industry and the diversity of the different winegrowing regions. Regine commented, "In addition to advancing our careers in the wine trade this will be a way for us to give something back to other women in the wine trade in the future, after we return from our experience".