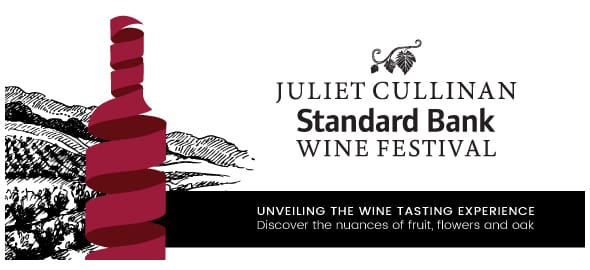 To all Johannesburg Wine Clubs
In welcoming the Wine Societies to the 27th Juliet Cullinan Standard Bank Wine Festival we outline your benefits exclusively for wine club members below:
The special offer for the Club members
    Discounted rate of R165 to your members.  Public pay R200 online and R220 at the door.
    Bookings should be co-ordinated by the wine clubs and the number of tickets you require with the names sent to events@julietcullinan.co.za by 8 May.
    The tickets will be available at our Webtickets Festival reception under the Wine Club name.
Extended opening times
Earlier opening times exclusively for wine club members.  16h00 – 21h00
Tutored classes
The first offer on the tutored free class, before we announce it to the public.
Join the Institute of Cape Wine Master's for tutored tastings to highlight the diversity and quality of wines giving you a glimpse into flavours, terroir and cellaring.
16th May 2017
18:30 – 19.00   The resurgence of Chenin Blanc
19:30 – 20h00  Shiraz or Syrah?
17th May 2017
18:30 – 19.00   Cape White Blends.
19:30 – 20h00  Red Blends, Classic vs Modern
For Bookings contact: Derek Ramsden on derek@onewinecellar.co.za
Food on offer:
The Oyster Lady will display her fresh West Coast oysters paired with elegant MCC's.
Gonedsa Award winning Gouda cheeses from cows in the Doornkraal, Cullinan District, made according to a traditional Dutch recipe.
Pierre Jourdan Ice Wine Popsicles
Pierre Jourdan Cap Classique Brut;  and Pierre Jourdan Tranquille Pinot Noir and Chardonnay blend.
Jem Caterers
Please order your dishes from lorna@jemcatering.co.za
    beef stir fry with peanut sauce corn, broccoli served on egg noodles R85
    mix vegetable stir fry with homemade teriyaki sauce and egg noodles R65
    sweet chili marinated chicken served with egg fried rice R75
    grilled fillet of beef served on butter roasted potatoes with mature cheddar sauce R110
    charcuterie plate (Selection of cheese, cold meat and fruits with biscuits) R75
Thank you for bringing your knowledge and experience to the show.  Winemakers engaging with you and you inspire many new wine lovers.
We look forward to enjoying the wines with you.
Best wishes in wine
Juliet
***************************
The latest press release below:
May, autumn harvest of mist, mellow fruitfulness, and the feuillemorte, is also the month of the much-anticipated annual Juliet Cullinan Standard Bank Wine Festival at Summer Place on the 16th and 17th.
South Africa's longest running, most elite wine show has enjoyed Standard Bank sponsorship for the past 17 years. Together we have transformed a novel concept ­­ ‒ bringing top talent to the attention of connoisseurs ‒ into a desired annual event.
The key to our success is fourfold ‒ a small vitrine of the finest wines, a limited number of boutique wineries, an intimate showcase of the leading labels, and winemakers discussing with guests the best time to drink their old vintages, among other pressing viticultural questions.
The emphasis is on terroir, fruit-driven wines, world winemaking techniques, and upcoming winemakers. Distinguished guests come to taste ‒  and buy ­‒  bespoke internationally-acclaimed wines at discounted show prices.
New wineries this year are Holden Manz, Kings Kloof, Epicurean, Lovane, and Pasarene. Rascallion, Broad Valley. Also debuting are Môreson, Mont Blois, Uva Mira, Benguela Cove, Paul Wallace, Perdeberg, Doolhof, Benguela Cove, Overhex, Mont Blois and so guests are in for a treat!
You will discover nuances in the MCC – Méthode Cap Classique bubblies from Haute Cabrière, Simonsig or Charles Fox,
Traditional values continue to bolster the festival with Bouchard Finlayson, Bosman Family Vineyards, Creation, Dewetshof, Avondale, KWV, Ormonde, Raka, Thelema, Vrede en Lust, Avondale, Constantia Glen, Charles Fox, De Grendel, Doolhof, Drift Farm, Idiom, Mont du Toit, Journeys End, Alto, Stellenzicht, and Neethlingshof, La Motte, Hillcrest, Zevenwacht, and Vondeling, still party stalwarts.
Guests will have the enjoyment of unveiling the fruits of the vine and nuances of fruit and flavour in the wines by an array of attractively priced gastronomic options for the hungry from Jem Caterers, The Oyster Lady and Cullinan cheeses.
Speaking of tradition, I could not have done this without Standard Bank's generous sponsorship for the past 17 years, so thank you, as always.
As we handpick our exhibiting wineries, the festival is today more about style preferences than quality as every label shows distinction.
Cheers! See you there …