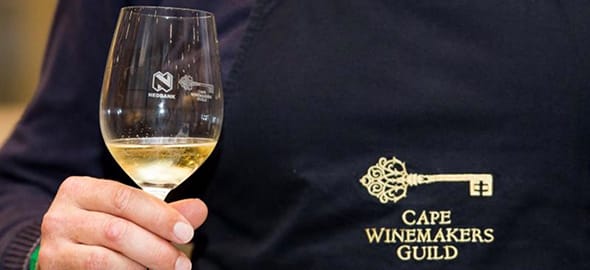 The problem with the Cape Winemakers Guild, quite apart from an elusive apostrophe which grates me every time, is that as a group of people, they're just too darned nice. You really have to taste their annual Auction releases as blind as possible so you can judge the wines without thinking 'oh but he's such a lovely guy' or similar and scoring the wine up. Somebody once said of another illustrious winemaker that 'the wines never taste as good as they do when he tells you about them' and when you have such a set of engaging, entertaining and erudite winemakers as this lot, it's easy to be swayed.
Of course, it's not 100% blind because it's fairly easy to spot Pieter Ferreira and John Loubser's bubbles, and you know that Andrea Mullineux is the Semillon Gris girl and that Bartho Eksteen is always going to make Sauvignon Blanc in one form or another. But I stayed away from social media posts, didn't read the press releases and did the best I could not to know what was going on before I tasted through all 47 wines today.
As a group of wines, I think they're pretty solid this year. A couple of other tasters bemoaned lack of freshness and yes, there were touches of jam on more than a few of the reds which was disappointing as there was lack of acidity on a couple of the whites. One thing I did like to see is that the winemakers really seem to be flexing their vinous imaginations more and more. When I first started doing this blind tasting, there seemed to be endless flights of Chenins and Chardonnays, Cabs and Shirazes whereas this year 25 grape varieties featured amongst the line-up which is pretty cool.
Having said that, there were a few styles/varieties I was surprised not to see. Many of the reds were from the stellar 2015 vintage so it was surprising not to see any Rhône blends in the line-up and only 1 red Cape Blend. Mind you, there were no white Cape Blends either – to my great sorrow – nor were there any White Bordeaux, and the only Grenache and Cinsault featured were a Grenache Blanc and as 10% of one blend respectively.
'So what?' as an esteemed colleague might say – there was plenty of interest in what was available and lots to entice buyers. For bubbly-lovers, there were 2 options in completely different styles, Pieter Ferreira's wonderfully-rich Cuvée 105 which enjoyed nearly 9 years on lees and needs no dosage to finish it off and then John Loubser's Big Dog, to my mind one of the most complete MCC's I've tasted, with a real champagne-quality to the wine. The sooner he gets some fizz released in magnums, the better, if you ask me.
Of the whites, the De Morgenzon Roussanne was showy and confident  with good weight and acidity whilst the Hartenberg Riesling – more Eden than Alsace I'd say – has years ahead of it if you can bear to wait. Rijk's Chenin Blanc has surely strayed only a short way out of Vouvray, showing lovely woolly evolution already beginning with bouncy acidity balanced by just a touch of sugar. Of the Chardonnays, for the umpteenth year running (and I'm rather chuffed at both Andries's and my own consistency!) the Paul Cluver Wagon Trail was a favourite with the beautifully-balanced Delaire Graff vying with it for first place.
Scooting through to the reds, it was the wonderful combination of Cabernet Franc and Merlot which caught and held my attention. There were other Bordeauxs (or mainly Bordeauxs) such as Rust en Vrede, Grangehurst (the 2014) and the Kanonkop Paul Sauer which were delicious but the two stand-outs for me were the Cab Franc/Merlot combos of Miles Mossop's Maximilian 2011 (not the 2013 version which was Merlot) and Strydom Family Wines The Game Changer. I attended a CWG technical tasting of Right Bank Bordeaux wines hosted by Rianie Strydom last year and I think hers would happily stand alongside some big names with nothing to fear – possibly my favourite wine of the day with length, balance, wonderful perfumed intensity and elegant ripe black fruit.
Boschfkloof and Boekenhoutskloof carried off the Shiraz honours with Boschkloof being straight out of the Northern Rhône (albeit a rather alcoholic version!) with aromas of violets, cloves, pepper and perfume and Boekenhoutskloof being velvety and rich with a wonderful tannic seam and sprightly acidity running through it. Big wines with a big future ahead of them.
The final wine which I loved was the Beaumont Mourvèdre. I attended another CWG technical tasting with Sebastian Beaumont who claimed he was still trying to get to know the grape and that many SA winemakers had walked away from the variety, unable to find the charm. Well, Sebastian has found that charm by the bucket-load in his whole-bunch fermented wine, full of ripe, cooked strawberries, juicy tannins with leather and polish – perhaps not exactly everything you'd associate with the grape but there you go.  It put me in mind of my mother's strawberry pie – something she made when we'd got a bit carried away at 'Pick Your Own' farms – and warm memories of summer days and al fresco eating brought the tasting to a happy end.
If you want to buy some of these wines, all the details of how to register and bid are here www.capewinemakersguild.com