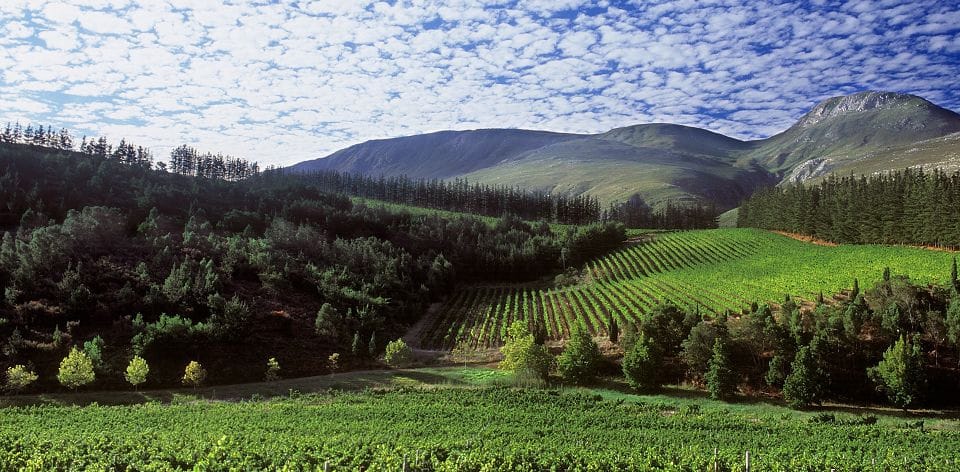 © Cape Times Friday 20th May 2016
The older I get, the more I find myself becoming like my mother. I say the same things, my hair looks like hers and I am showing a worrying tendency to shop for comfortable clothes and shoes – flatties and elasticated waists are now order of the day. So I don't think that the word 'cool' really applies to me anymore – indeed, I'm not sure if it ever did. My only redeeming feature is that I really like cool wines – not necessarily those made by hip and trendy young things with beards in which you could lose a badger (although many such are quite fabulous), but wines made in the cooler regions of this country, promoting elegance and delicacy above power and punch.
Grapes take longer to ripen in cooler climates, allowing the flavours to develop slowly and fully. These wines often have lower alcohol levels as well as higher natural acidity – something to be valued in a country where adding acidity is the norm in most regions. In recent years, Elgin has made being cool part of their USP and The Elgin Cool Country Festival showcased this a couple of weeks ago, with farms opening their doors to visitors and laying on a combination of tastings, events, food stalls and live music for their enjoyment. Elgin is fairly compact and easy to drive around and with most farms being family-friendly, it was a good day out for all.
I wanted to try and taste grapes which do best in cooler climates – things such as Sauvignon, Riesling and Chardonnay for the whites and Pinot Noir for the reds. Although Elgin is mostly associated with Sauvignon, many people feel that it is Chardonnay which is going to be the top performer from this region. One of those is Joris van Almenkerk and he had 5 vintages of his Almenkerk Chardonnay open for a vertical tasting during the weekend. Over the years, he has reduced the oak influence and moved to wild yeast fermentation creating a rich, but elegant wine which has great ageing potential – something often the case in cool-climate wines. The 2014 is current vintage – drink now or keep for a further 8-10 years.
Apart from making his own wines, Joris is one of the band of superstar winemakers who create the wines for Elgin Vintners.  This brand contracts out winemaking to people such as Kevin Grant, Niels Verburg and Joris, utilising their individual talents to great advantage. Joris made one of the wines I most enjoyed this weekend, the Elgin Vintners Century white blend, which takes Sauvignon to another level of complexity and interest by combining it with 40% Semillon. The 2013 (which is the current release) is in exceptional nick – crisp and lively without being aggressive or overtly green. We need to drink older white wines……
One variety which certainly ages well is Riesling, and arguably the country's finest examples come from the steep slopes of Elgin hills. A new one to me was the Stone and Steel Riesling 2015 from Oak Valley Wines which really epitomises everything great about this variety. Riesling has such high natural acidity, it needs either a long time for it to soften (as happens in Australian Rieslings) or a gentle tweak of sweetness to take the edge off it. This is what's happened here, making the wine a little rounder and fatter whilst still retaining all the crispness and freshness you could want. At the farm's Pool Room restaurant, Chef Gordon Manuel makes a mean pulled pork sandwich from Oak Valley's own acorn-fed pigs and this was the perfect match for the rich meat.
On this occasion, I didn't manage to taste the wines from one of my favourite Elgin winemakers, the always fabulous Catherine Marshall. But I did manage to taste her Clay Shales Pinot Noir a few weeks previously when it was matched by Aubergine's sommelier Pawel Wagner to a sublime broccoli and mushroom creation. A cool combo from a cool lady – perhaps this is a lesson to me to drink more Pinot, stop the slide into old age and try and keep up with the cool kids from Elgin.