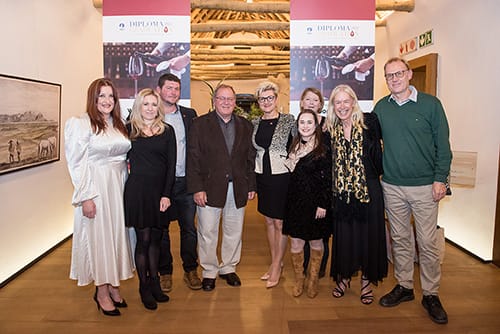 21 June 2022
The First WSET Level 4 Diploma in Wines Graduation Ceremony on African Soil.
The International Wine Education Centre (IWEC), Africa's leading provider of the internationally-recognised Wine & Spirit Education Trust (WSET) wine courses is celebrating this week as 9 graduates are rewarded for their efforts in completing the taxing WSET Level 4 Diploma in Wines qualification. Although the IWEC has been offering the WSET Level 4 Diploma for several years now, this is the first group of students who have actually attended lectures and tastings in person as opposed to online learning, and their success is testament to the hard work of the IWEC's lecturing team as well as to the dedication of the new graduates. The graduation ceremony took place on Tuesday 21st June at Clara's Barn on Vergenoegd Löw Wine Estate.
The WSET Level 4 Diploma in Wines is the flagship qualification for WSET and is widely considered to be the entry requirement for the world's toughest wine exams – the Master of Wine. Over the past two years students have studied modules covering viticulture and vinification, fortified wines, sparkling wines and still wines of the world. In order to better prepare graduates for leading roles within the wine industry, there is also a strong focus on wine business with not only an entire unit dedicated to production and selling of wine around the world, but also a 3,000 word independent research paper analysing key topics of importance to global wine business. Students must pass each unit, including winetasting elements, in order to achieve their Diploma in Wines, with global pass rates notoriously low.
Owner of the IWEC, Cathy Marston, says "I am so proud of these students and their amazing achievement in passing this really gruelling qualification. I know full-well that they have spent late nights, early mornings, every weekend studying in order to master this qualification and despite all the challenges that Covid has thrown at them over the past two years, they have battled on and succeeded at the highest level." She went on to say "It has been an absolute privilege and a pleasure to be able to share their journey and both I and my entire lecturing team wish them all the very best for a bright and bubbly future wherever that may lie."
The WSET Global graduation took place in London in April and although some of the IWEC's graduates were able to attend, it was felt that this was a good time to celebrate their success locally as well. Sponsored by Woolworths with prizes and wines donated by leading import partners Wine Cellar, Great Domaines and Reciprocal Wine Company, the top student in each unit was rewarded for their efforts with overall honours going to Chantelle Gous, Senior Sommelier for Singita  safari lodges. In addition to winning local accolades, one student Shon Kumar, was also the recipient of the Taylor's Port Prize for best performance in the fortified wine unit worldwide.
Full list of 2021/2022 WSET Level 4 Diploma in Wines Graduates via the IWEC.
Abrie du Preez
Albert Marais
Chantelle Gous
Helena Melis
Janet Rowsell
Liz Hedley-Smith
Sam Adams
Samarie Smith-Meletiou
Shon Kumar
Full list Award winners per Unit
The Woolworths Top Achievement in Wine Production – Sam Adams
The Woolworths Top Achievement in Wine Business – Liz Hedley-Smith
The Wine Cellar Top Achievement in Wines of the World – Albert Marais + Janet Rowsell
The Great Domaines Top Achievement in Sparkling Wines – Chantelle Gous
The Reciprocal Top Achievement in Fortified Wines – Shon Kumar
The Woolworths Top Achievement for the Independent Research Assignment – Abrie du Preez
The Woolworths & Riedel IWEC Top Diploma Graduate 2022 – Chantelle Gous