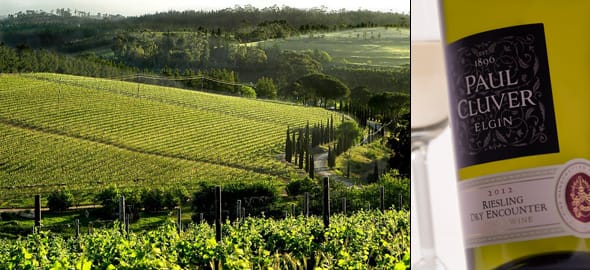 © Cape Times Friday 16th May 2014
South Africa has one of the most regulated wine industries in the world – which is great for consumers because it means that we can enjoy the wines we drink, safe in the knowledge that they contain only what the label says they contain and that their provenance is minutely-recorded at every stage. If you want to know more about any wine, check out the little 'bus ticket' which adorns the neck of every bottle, enter the number you see on the ticket on The Wine & Spirit Board website (www.swsa.co.za) and you can find out chapter and verse about that wine, easily and freely available to all.
That's the plus side of The Wine & Spirit Board. If you talk to winemakers, particularly those who are who are pushing the boundaries of winemaking, you may hear another story altogether. For a wine to be certified, it needs to pass a tasting panel which will decide (amongst other things) whether the wine is typical of the particular style category. Woebetide anyone wanting to do something kooky or interesting with their wine, because tales of top wines being rejected because they don't conform to the recognised norms are legion. What's on the label has to be what's in the bottle, down to the last drop and to date, there has been little flexibility for any innovative winemaker, no matter how good his or her wine.
Or so I thought. A couple of weeks ago, I was invited out to lunch at Paul Cluver Wines high in the hills of Elgin. They have converted an old lodge on the historic wagon trail running through the farm into a function room and launched the venue with a tasting of their Rieslings at a stellar lunch by Bertus Basson of Overture-fame. Paul Cluver Wines is the biggest producer of Riesling in SA with nearly 25% of the country's plantings going into their different ranges. That's still a rather meagre 15 hectares, but all of it comes from the lovely cool climate of Elgin, something so important at maintaining acidity and freshness in the wines. Most people think that Riesling is sweet, so it was good to see the Cluvers tackling this perception head-on with their 'Dry Encounter' Riesling. And then I looked at the technical details and realised that the 'Dry' wine actually contained 8.7g of residual sugar – almost 75% more than the legal limit for a wine to be labelled 'dry'! How was this possible? Could the Cluvers have found a sneaky way round the mighty, unbending Wine & Spirit Board at last?!
"The key to being able to label the wine as 'dry' lies in the acidity" explains Andries Burger, winemaker at Paul Cluver Wines. Because the wine is so high in acidity, it actually needs a little sugar to help round and soften the flavours and if Andries had stuck to the legal limit of under 5g, the wine may have seemed tart and harsh. So they approached the Wine & Spirit Board and explained their dilemma, requesting that they be allowed to label their wine according to European standards, not South African ones. In certain areas of Europe, wines are judged not on their sugar levels, but on the ratio of sugar to acidity, allowing for wines with particularly high acids to have additional sweetness. After some deliberation, the board granted provisional approval to use the word 'dry' on this wine's label and the final decision will be made by the Minister of Agriculture soon. Should it be approved, Andries believes there are some fantastic opportunities for other producers and not just for Rieslings – many top Chenin producers would be able to take advantage of this ruling as well.
It's a great victory for common sense, enabling the Cluvers to label their wine in a way which is helpful to the consumer, because the wine certainly didn't taste sweet, just full of fresh, crunchy green apples with a hint of flowers. At the moment, we are awaiting the release of the 2014 Dry Encounter but if you want to try a Riesling in the meantime, check out the Cluver's Close Encounter Riesling – a wine which is officially off-dry but I bet you many people would neither notice or mind. Retailing at R80 a bottle from the tasting room, and full of lemongrass and lime cordial with an orange blossom finish, it's one of the best food wines you'll buy this year.