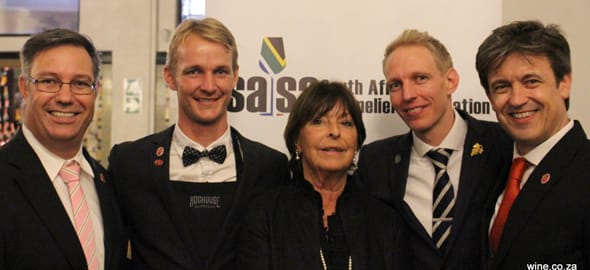 © Cape Times Friday 15th January 2016
I'm not quite sure yet what 2016 will be the Year Of (I'd like to think it would be the Year of the Falling Rand – here's hoping) but I'm fairly certain that 2015 was the Year of the Sommelier. The official definition of a sommelier is "A restaurant employee who orders and maintains the wines sold in the restaurant and usually has extensive knowledge about wine and food pairings" and it seems that this is a job whose time has now come to SA. We have reached the pitch of sophisticated dining which now justifies new competitions such as the proposed American Express Platinum Taste Awards, and along with an increasingly-elevated standard of dining comes the call for wines and wine service to match. So it shouldn't really come as a surprise to anyone that the spotlight is now on sommeliers and their art.
Instrumental in the growth of sommellerie (the art of being a sommelier) has been the South African Sommeliers Association (SASA) which was set up in 2010 by a group of SA somms who had all worked overseas before returning home. The current Vice Chairman is David Clarke, a qualified sommelier from Australia who now owns a wine distribution business in Cape Town, selling boutique South African wines. He believes that being a somm is the best job in the world for a wine-lover "How else do you get to try interesting wines all the time without having to buy them all?!" and suggests it is a fantastic career for a lot of South Africans. Being a waiter is generally seen as a dead-end job in SA, but with interest and enthusiasm, any waiter can transform this into a fulfilling career with prospects and opportunities around the world.
So how do you become a sommelier? According to David, the first thing you should do is get yourself on the restaurant floor. If you can find a restaurant with a qualified and experienced sommelier and start learning from scratch, this will be the best start. You'll learn the basics of service (polishing glasses, setting-up the restaurant, pouring wine etc) as well as gradually tasting more wines and more food and wine combinations. Later on, you'll need to learn how to build up a cellar and manage stock but the essence of the job remains customer-focussed.
In terms of qualifications, there are no international sommelier qualifications available in SA at the moment, although SASA has just launched their Foundational Sommellerie course, aligned to international standards and aimed at putting interested students on the right path. They recommend aspiring sommeliers back up service knowledge with certificates from either local institutions or the internationally-recognised Wine & Spirit Education Trust (WSET) – for clarity's sake, I should say that these are the courses I teach here in SA and which are also the industry-standard in 65 other countries around the world. Which is useful for somms as many of them travel and work overseas so having recognisable qualifications is a big plus.
And now we have the first SASA-organised competition to find Africa's Best Sommelier. This took place on Monday at The Taj Hotel under the auspices of the Association de la Sommellerie Internationale, the international 'governing body' of sommelier associations worldwide. International judges put 10 of the country's top somms through a series of rigorous tests culminating in pouring a magnum of Champagne into 18 glasses, ending up with them all at equal heights, no topping up of glasses and with none left in the bottle – quite a feat I assure you! The winner, Gareth Ferreira who currently works at a private wine club in London, will now represent SA at the World Championships in Argentina next year – huge congrats to him. And if you want to be the next winner, check out www.sommeliers.org.za and start your journey into wine.