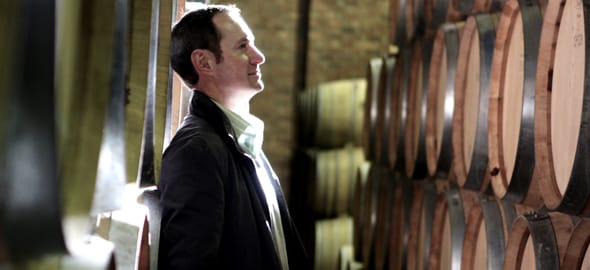 © Cape Times Friday 15th May 2015
Firstly – what's a 'vertical tasting'? Nope – not one conducted standing up (nor is a horizontal tasting one where you end up measuring your length on the floor. Although that happens. From time to time.), it's where you taste a series of different vintages of the same wine, all lined up alongside each other to look for differences and similarities. I was lucky enough to be at a 10 year vertical tasting of Saronsberg Full Circle red blend the other day and here are 10 things I think you can learn from such an experience.
1. Wines change over time. We tasted from 2013 back to 2004 and when the wine was young, it showed lots of fresh fruit – 2013 and 2012 did that perfectly with juicy black berries and cherries, fresh perfumed spice. Older wines show more secondary and tertiary notes – things like leather, meatiness, savouriness and smoke, all things shown admirably in the 2007 and 2004.
2. Vintages affect wines. Generally speaking, sunny years result in wines which have riper fruit and higher alcohol and these wines aren't always the ones which keep best. A surprise therefore, was to taste the 2005 which still has loads of fresh black berried fruit and smells amazingly fresh and juicy.
3. Winemakers affect wines. Over the 10 years of wines, we saw winemaker Dewaldt Heyns change proportions, reducing the amount of Shiraz, adding in a new variety, reducing the alcohol somewhat and changing the oaking regime. And the wines are getting better with every year.
4. Different components add different things. Saronsberg Full Circle is a Rhône blend which means it's made up of varieties which are traditionally-grown in the Rhône Valley in France. When the blend started, the wine was mainly Shiraz (around 80+%) with some Mourvedre and Viognier added in. The biggest change happened in 2008 when Dewaldt added Grenache and since then, the wines have become plushier, juicier, softer and spicier. In addition, all the wines had a common thread running through of toasted gingery notes – probably from the small but important Viognier component, giving it an identity and a consistency over the years.
5. Having a winemaker stay in one place for 10 years is rare and should be cherished. The value of having a winemaker take the time and trouble to get to know his soils, his grapes, his winery and his wines is incalculable. Dewaldt is able to bring first-hand experience to bear on each vintage, allowing him to make careful, small refinements and improvements rather than swingeing changes for change's sake. The result is a steady improvement and a clear journey through the years.
6. Winemaker predictions are not always true! People are often quick to claim that their wine will last x number of years but, as Dewaldt points out "How many people come back and query this fifteen years down the track?" Take these estimates with a pinch of salt – and see the next point as well.
7. Not every wine can age well and old wines aren't necessarily the best. Out of the line-up of 10 vintages, I would have preferred to have drunk the 2004 a few years ago. It's a fact that due to vintage variations and changes in the winemaking style, some wines don't always possess the ability to go on forever. That's fine – it's a case of knowing when is best to drink them and only you can decide that. Best advice – buy a case and open a bottle every year. When you think it can't get any better – drink the rest of the case.
8. Not everyone likes the same wines. Vertical tastings are great fun if you like an argument because it is rare for everyone to agree on which wines they prefer. This occasion was no exception with my favourites finding little favour amongst some other tasters and solid agreement by others. Trust your own taste – always going to be the best advice!
9. Blends are best. Nearly always. This is true in almost every instance. Blends allow a winemaker to produce a more complex, multi-layered wine. The best blends are where 1 + 1 makes 3 and in the case of the Saronsberg Full Circle, sometimes 4 or 5.
10. A 10 year vertical is an opportunity not to be missed. Very few people are able to keep their wines for any length of time – that takes money and a strong resolve, attributes which are not possessed by everybody. It's always an honour to be invited to take part in one and I always leave having learnt more than at almost any other tasting. If you ever get an invite – cancel everything else and go. You can thank me later.
Saronsberg Full Circle is available in specialist retailers for around R275 a bottle.